Frequently Asked Questions
Question not answered, please contact Boulder Granite
---
Do you offer digital templates?
Before your new countertop is fabricated a template ( pattern) of the kitchen or bath layout is made in your home. Our state of the art technology allows us to create a digital footprint of your future countertop, without having to remove your existing countertops. The digital template process allows us to measure your countertops with precise accuracy. This template method does not disturb your kitchen and can be done over existing countertops. In most cases the countertops won't even need to be cleared off! This technology makes it simple and easy to review radiuses, seam locations, overhangs, backsplashes, and any other questions or concerns you may have. This ensures that you aren't without your kitchen for weeks or more!
Digital Template Method takes around 1/3 of the time that other methods take, it is much more accurate, it is simple and quick to review and all with no mess!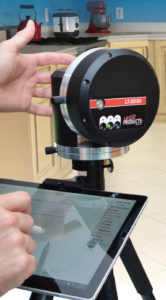 ---
How can I get an estimate?
Usually we give estimates based on measurements supplied by the customer. However, our installers will come to your house to take their own measurments or make a template before they actually cut the granite. To provide an accurate estimate, we really need a diagram of your kitchen with dimensions. If you are getting new cabinets, your cabinet designer can usually supply a diagram that we can use. If you are keeping your existing cabinets, it is best if you can make a sketch of your kitchen showing the dimensions of your counter tops.
Click here to see a sample kitchen diagram
To make your own sketch, you can download an estimate sheet, fill it out and email it back to us. Estimates are free of charge. Click here to download an estimate sheet
Here are some tips for creating a sketch of your kitchen:
List all dimensions in inches, usually rounding up to the nearest inch.
Measure all dimensions along the back edge of the counter top (along the wall). If there are angles in the counter top, measure both the back and the front edge dimensions
When drawing the diagram, a scale of one small square = 5″ works well to fit most kitchens on one page
Use an "X" to mark all edges that need to be polished
Specify what granite color you want
Specify whether you want a surface mount or under mount sink
If you include your email address, we can email you back a written estimate.
See the Contact page for our email address
---
Tear out and Removal of Old Countertops
We offer removal of your old Formica, Laminate or Tile countertop!
Your new countertops are on the way, but what do you do with the old ones? We offer a removal and disposal service for your existing Formica, Laminate and Tile countertops on the same day as the installation of your new countertops! With this service, you will not be without a kitchen for an extended period of time, and most projects can be completed from start to finish in one day!
By taking advantage of our countertop removal and disposal services, you will have the comfort and confidence knowing that we will quickly and thoroughly take care of your project from start to finish.
---
What forms of payment do you take?
We take cash, checks. We ask that you pay for the granite up front, before they start cutting it. You pay the installation portion at the end when the job is complete. Since installation is roughly half of your total cost, this works out to be about half down, and half due at the end. We will itemize the granite and installation charges on your estimate.
---
Do you have remnants?
We have a great selection of granite, marble and quartz remnants. Variety of sizes and colors. Please come into our shop to check current stock.
Ready to find out more?
Drop us a line today for a free quote!
Click Here